name:cloud strife
nickname:Radiant Warrior
age:19
personality:Cloud seems to be notably stoic and melancholy, very different from the personality of his Final Fantasy VII counterpart. However, he does possess some similar, even more melancholic, characteristics in Advent Children. He is also seen engaging in playful banter with Leon during the 1,000 Heartless Invasion of Hollow Bastion as well, hinting at a friendly rivalry between the two.
gender:male
looks: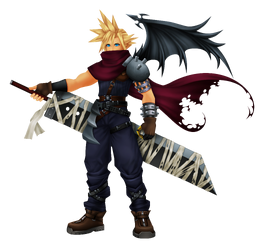 history:Cloud first makes his appearance in the Olympus Coliseum, striking a deal with Hades: if Cloud eliminates Hercules in battle, Hades will lead him to his nemesis Sephiroth. However, Cloud also has to fight Sora, so that he may move on to Hercules in the preliminaries rankings. After their battle, Cloud is either defeated, or comes out victorious, but refrains from killing Sora. The outcome of the fight does not affect the storyline, and the only reward for winning are the 80 experience points rewarded. However, as Cloud does not kill Sora, the results are not favorable for Hades; forcing him to summon Cerberus. The three-headed beast and guardian of the Underworld catches Cloud off-guard, pinning him to the ground.
At this point, Hercules comes to the rescue, defending the unconscious Cloud. Sora then moves in to finish the battle, giving Hercules the chance to take Cloud to safety.
Afterwards, Cloud waits at the entrance to the Coliseum, deep in thought. Sora asks him why Cloud worked for someone as shady as Hades, and Cloud replies that he was looking for someone, and tried to use the darkness to his advantage, but failed. He admits that he fell into darkness, and couldn't find the light. But Sora comforts him, saying that he too is searching for his light. Cloud then grants Sora the Sonic Blade ability, and walks off, but not before Sora offers a re-match. Cloud confidently says he'll pass, but later in the game, he can be fought in certain cups at the Olympus Coliseum.
Cloud eventually manages to find Sephiroth in Kingdom Hearts Final Mix. Cloud manages to locate Sephiroth in the Coliseum, and both express that they have been searching for each other. Cloud also feels that in order to awaken from his nightmare, he has to defeat his darkness; namely, Sephiroth. Sephiroth tries to convince him to turn to that darkness, but Cloud refuses, and the two battle. The outcome of the battle is unknown
clan:(what is the name of your clan or family?)
Clan History:)tell us anything and everything about your family/clan)
elements:Earth,Wind and Lighting
weapon name:Buster sword,First Tsurugi
weapon looks:Buster sword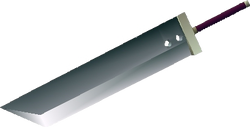 First Tsurugi
about your weapon:When fighting, Cloud remains in a "combo" of astonishingly rapid sword strokes and occasionally Thunder-based magic attacks, only fighting normally when he seems to be winning and Sora or the others are near. His attacks include: the technique "Sonic Rave" where he dashes through his opponents, he can slash his opponents using a powerful combo called "Cross Slash", he can use "Braver" where he jumps in the air and comes down hard. When enraged, he activates "Omnislash", where he surrounds himself with fire and lightning and starts flying and attacking in a Sephiroth-like manner. Essentially, his entire moveset consists of his original Limit Breaks.
about your self:(anything)
Likes:
Fighting
Sleeping
Searching
Eating
Adventure
Dislikes:
The past
Many people
Sephiroth