name:Murasaki Shinon
nickname:Dark Rose,Purple,The Sexy Villain,the Princess of darkness,Princess of Ice,Rose
age:20
personality:kind,friendly,cheerful,graceful, elegant,charming,classy,evil,sadistic,dark,cold,uncaring,loving,cool,maniacal,wise,devilish,dangerous,daring and somewhat quirky,shy and quite.
gender:Female
looks: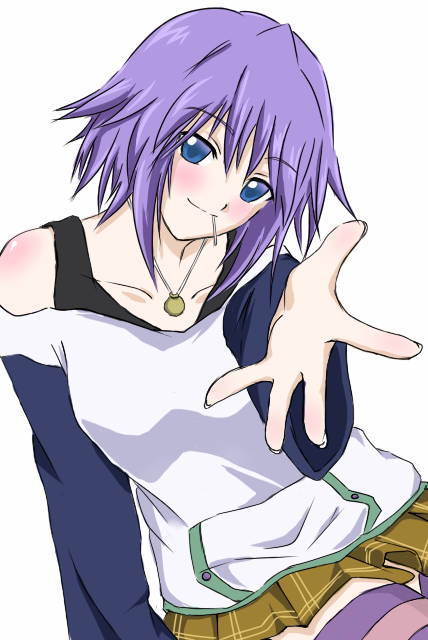 Spoiler:
history:Rose grew up in a nice small snow village growing up with two caring loving parents but she grew tired of the royal life of the rose clan and decide to go off alone making believe that she never had anyone when she abandon all hope and her old life and decide to go on with her life as a new person (her name switched around from Rose Murasaki to Murasaki Rose) as she lived this new life she prepared to be called Rose so that to not draw any tension to her real name.
become the slave to a vampire and completely taking out all of her feels on her little sister she happen to one day bump into but decide to leave her sister for once and died being brought back but staying low for a while not being notified of her sister at any point and some how appeared in a new world making a new friend for her new life.
clan:Rose
Clan History:the Rose clan or Murasaki were known for there dark ice style moves and there dark art of magic adding on to there snow art magic making them deadly in both offence and defense.
elements:kurai(Darkness or dark) and Aisu(Ice),Psychic and telekinesis
weapon name:none as of yet
weapon looks:none yet
about your weapon:none yet
about your self:if you want to get to know me then get to know me its that simple.
Likes:sweets
Candy
cute guys
dark guys
darkness
the color black
the color purple
the color blue
the snow
being alone
the rain
pain
hugs
cake
soda
bear,wine, liquor
partying
Dislikes:Rapist
Perverts
guys(certain type of guys)
ugly creatures
to much light
being in crowds
being told what to do
being forced into love
rape
vegetables