Name: Marluxia
Age:19
Gender: male
Personality: Marluxia has a habit of being overly dramatic and giving long speeches. He also takes great pride in his appearance. This is evident by the sakura petals that he often has surrounding him. He is always in a happy mode when he wont's to be but when you drive him to that point when he is really annoyed he will get angry . Marluxia doesn't pretend to have emotions also
Marluxia believes that he deserves more respect than he's given ,All in all, Marluxia is a very egotistical, Marluxia has his ups and down's once in awhile
Appearance: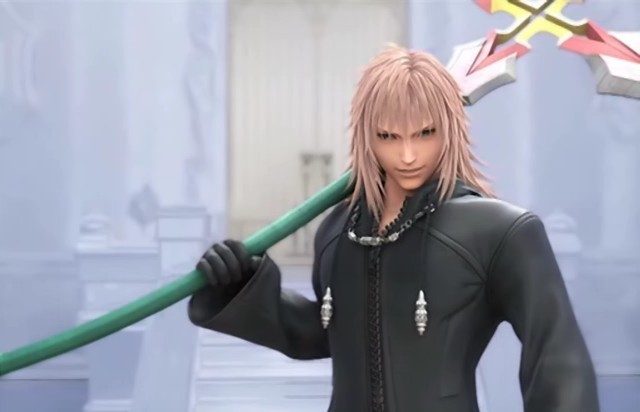 A tall, elegant Nobody with feminine features, Marluxia wears the basic Organization uniform of a black cloak, black boots, and black gloves. His hair is shoulder-length and rose pink with ruffles Marluxia's eyes are blue and his lips are pale pink.
History : Little is known about Marluxia's background before he became a Nobody. When first "discovered" by older members of the Organization, Xaldin and Xigbar, Marluxia is made to be the eleventh member. Some time later, Larxene becomes the twelfth member, and Marluxia "befriends" her. Except not really, so it's more like "manages to get along with", to the point where they get to agreeing that the castle is boring, that Nobodies like them are better off without hearts, and they should totally take over the Organization together because the older/original members suck. Yes, talking to Larxene did all of this. Blame her. Then, soon enough, Roxas joins the Organization. With plans already forming, Marluxia is all too happy to help out Roxas understand his purpose of destroying heartless and collect hearts. Somewhere along the line, Saix becomes aware of plans to overthrow the Organization, and sends "suspicious" members to Castle Oblivion, along with Axel, who is given the orders to kill anyone who has these plans. Unaware of Axel's orders as a double agent, Marluxia and Larxene continue with their schemes.
For some reason, Marluxia is put in charge of Castle Oblivion. Most likely because Saix had figured it would draw out the other's true intentions, and yes, it in fact does. First luring Sora to Castle Oblivion by appearing before him one night, and then telling him what he seeks is within the Castle, Sora is successfully caught. Then, using Namine, a Nobody who can manipulate memories, Marluxia coerces her into planting fake memories in Sora's heart, in order to confuse him into thinking she was someone he had to protect. Then by extension, he would be able to control Sora's actions by threatening Namine, and hope to use Sora to defeat the original members of the Organization without needing to do so himself.
Position: former XI of organization 13
Element: Flower and Death [unknown element]
Realm:castle oblivion
weapon name:Graceful Dahlia, unknown blade
weapon looks: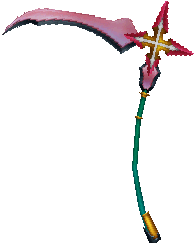 The handle of the Scythe is a pastel green color, and the blade is a rose pink
weapon info:it has a lot of attacks besides just slashing at people. It can send out an energy wave (Crescent Wave), and a shockwave like attack (Circle Reject), as well as a few attacks that rush at the victim from above, one specifically called Blossom Shower, that releases another shockwave, and a ton of attack petals. Basically, Marluxia's twirling around with a scythe and stabbing you with razor sharp flower petals, in short, you're screwed.Other abilities that worked in Castle Oblivion but probably won't work in Nautilus are: creating a clone made of petals, levitating, teleporting around like a mofo (without using a darkness corridor) when you fight him, and summoning a giant mech that looks like a weird kind of weed whacker/praying mantis combination, if the blades were really scythes and pink, and Marluxia was it's head. Also summoning a giant Grim Reaper like figure which has the abilities like "Omni Laser", "Doom" and "Whirlwind to the Void".also the Whisper of Doom
Weakness:Marluxia is often left wide open just before he attacks or right after he attacks due to the length of his scythe. If one were able to get up close to him, they would likely be able to knock Marluxia flat. Further more, if one is able to wrench Marluxia's scythe from his grasp while he's open, that person will be able to buy themselves some time for the Doom status.Marluxia cannot stand it when his plans begin to backfire. He will attempt to turn the situation back in his favor, but, should that fail, he will resort to the destruction of any weak links, whether by his hand or others.
anything about your self:Well im a gentle men some times and i always hide my emotion's when im near people and i like to take alot of charge once in awhile